China is the world largest coating producer. Centered at shanghai, the china Yangtze River Delta (Yangtze River Delta) is china's most economically developed area meanwhile is the national coating industry key area. So this time 2013 coating expo re-landed in shanghai on November the 20-22th, it is expected that the expo would be grandly hold in Shanghai new international expo center (SNIEC) and would last for 3 days.
China coating show is a super must exhibition for industry which served the whole industry for 17 years, with a very high reputation and continuous-growing performance results, it earns a general huge attendance each year. On this expo, there already been 1018 company exhibitors from 35 countries/areas who were expected to take part in the exhibition to bring the Audiences newest full serial industry products and technologies in raw coating and oil material, production equipment, testing instruments areas and related technology skills and services, information and etc.
holding the industry leadership position, the global 1st coating raw material Manufacturer – Arkema surely wont miss the expo. On this china international coating expo, Arkema coating products cover a wide domains in various different categories, ranged from industry coating to construction coating, decoration coating, special coating and even those included on resin, auxiliaries chemicals domains.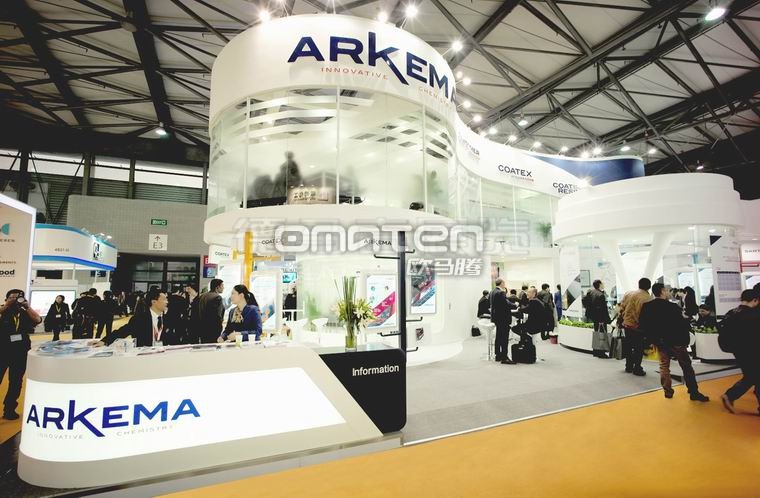 As the frontline reporter discovered, on this expo, the first thing Arkema attracting people is not the coating products itself but the glittering booth, the Arkema booth distinguished itself with the unique appearance and the detailed-to-360 degree full range vision feeling. Attracted many Audiences ahead to watch, this undoubtedly fire the first sound successful shot in this expo.