The 1st CHINA INTERNATIONAL IMPORT EXPO was successfully held in Shanghai New International Expo Centre from November 5 to 10, 2018.
As a service provider for booth construction and design, Omaten Exhibition Technology (Shanghai) Limited is proud of China′s strength and has the important task of promoting Chinese culture.
Omaten exhibition has professional arrangement for 15 years which will contribute to China International Import Expo. To demonstrate China′s strength and advance with global enterprises in a new generation.
As the service provider of this CIIE Omaten Exhibition have energized the 1st China International Import Expo, in which has taken over the exhibition arrangement tasks of 48 famous enterprises for examples ,Amway, Adidas, UOB, Hanergy, Fluke, Fuji of Japan, Royal Dutch Feishilan Dairy, etc. and more than 10 national pavilions such as Philippines, Ukraine, Chile, Israel, Turkey, etc. To help spread culture and show their strength.
President Xi and foreign leaders visited national pavilions built by Omaten Exhibition during CIIE.
Xi Jinping entered the exhibition hall of national trade and investment comprehensive exhibition together with foreign leaders. They have dialogue while they walking, and visited the exhibition areas of Ukraine, Hungary, Egypt, Israel, Vietnam and other countries. They have learned about the economic and trade development achievements and characteristic and advantageous products of various countries. The national exhibition booths built by Omaten Exhibition are displayed in different forms according to different national features and humanity.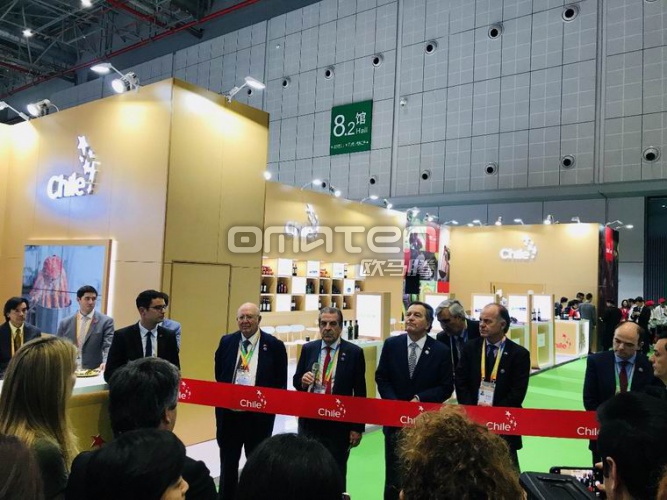 Alibaba′s senior leadership, Minister for Foreign Affairs of Chile and other political leaders visited the Chilean exhibition area created by Omaten Exhibition. The design of the exhibition area revolves around the core idea of "Traveling all over the Country" and endows the exhibition area with unique charm style. The entire exhibition 's feature are well arranged. Chile′s national leaders highly comment the characteristic and admire perfect Chile style scene from performance in Exhibition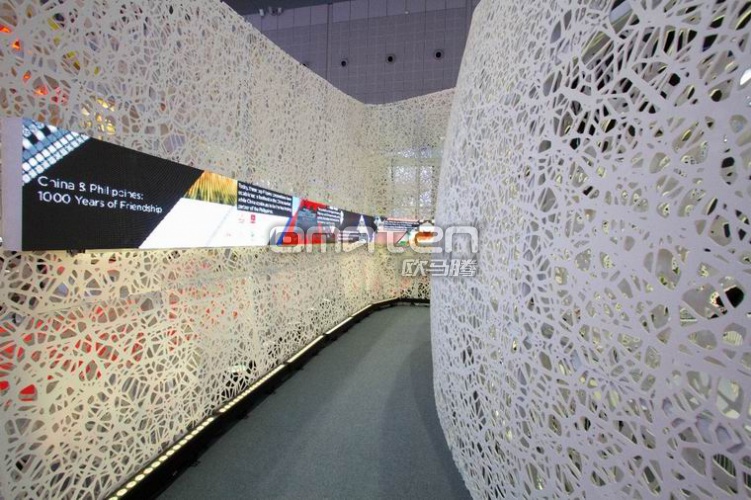 ▲ Philippine National Pavilion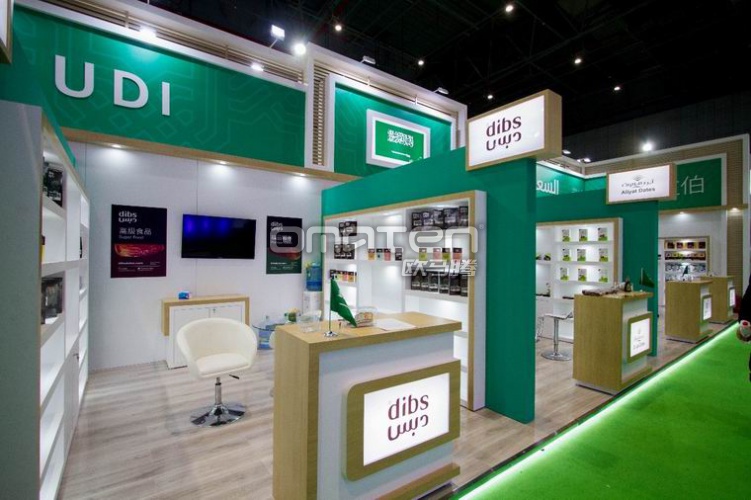 ▲ Saudi Arabia National Pavilion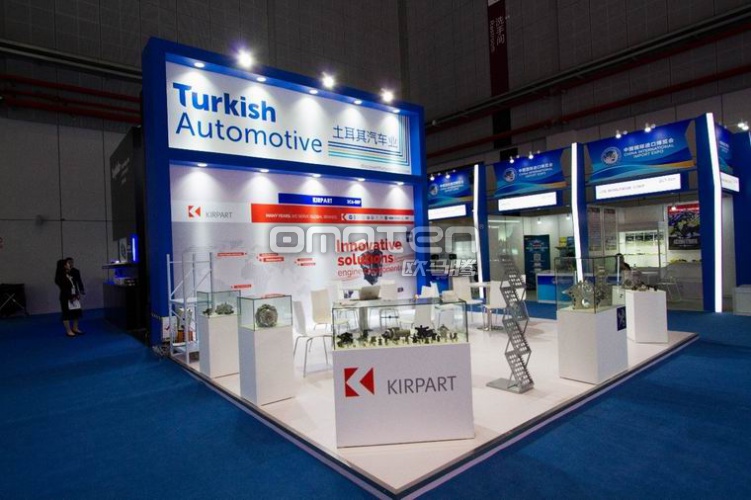 ▲ Turkish Exhibition Group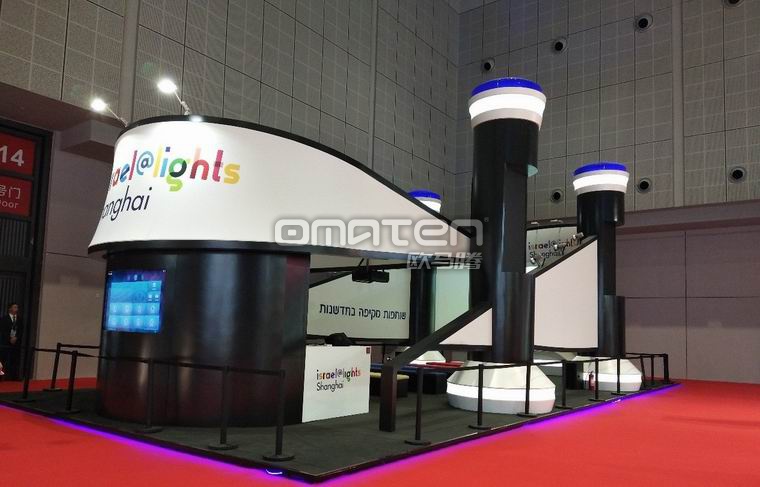 ▲Israel National Pavilion
Enterprise Pavilions
Adidas :economic unconventional and environment protection
The entire booth towards concise style with environmental protection and economy in materials and elements. The new booth features has 95% sea trash which are plastic, other equipment such as , screen also shows the whole processing of getting recycling and reusing, in which help improve marketing brand in public.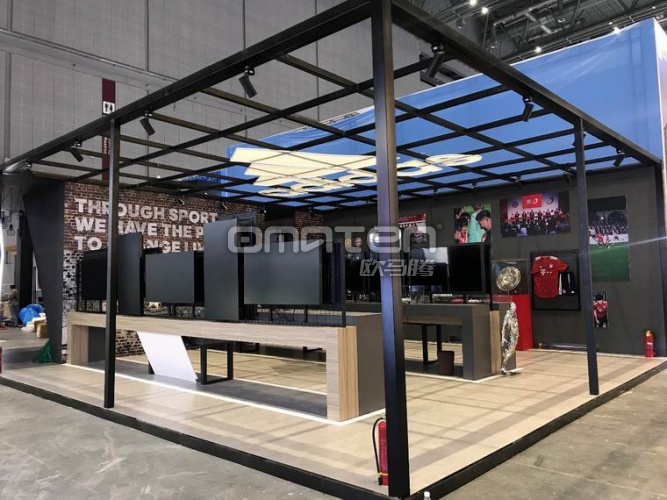 Merck : Life Science, Medical Innovation
The booth model is based on the enterprise SI system of Merck that can make connection to scientist and brand's feature and image. The middle of area's was divided business and products display by circular sculpt which was save more space for discussion area and more private business area. The theme colors are blue and red, and those two colors also Merck theme colors.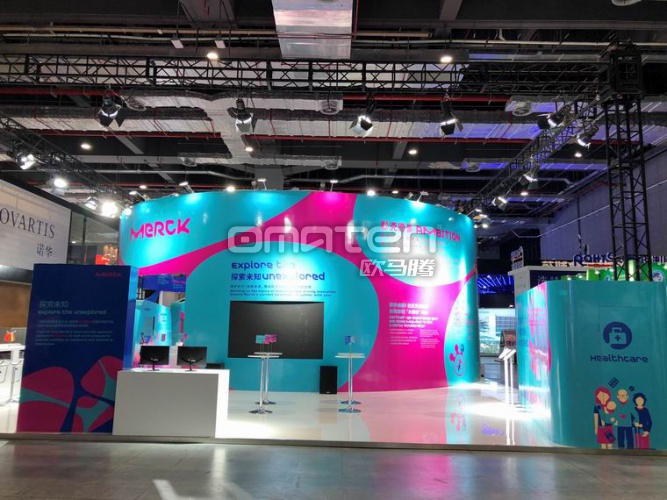 Royal Dutch Feishilan Dairy : Scenes Restore, Immersive Experience
The Royal Dutch Feishilan Dairy Company 's well known products is chocolate milk. The booth design highly restores the real scene of the pasture and brings immersive experience to the audience.
In order to response "The Belt and Road", the exhibition in this CIIE takes the simulation model between "China-Europe " and "The Belt and Road" train to express win-win cooperation and extend the market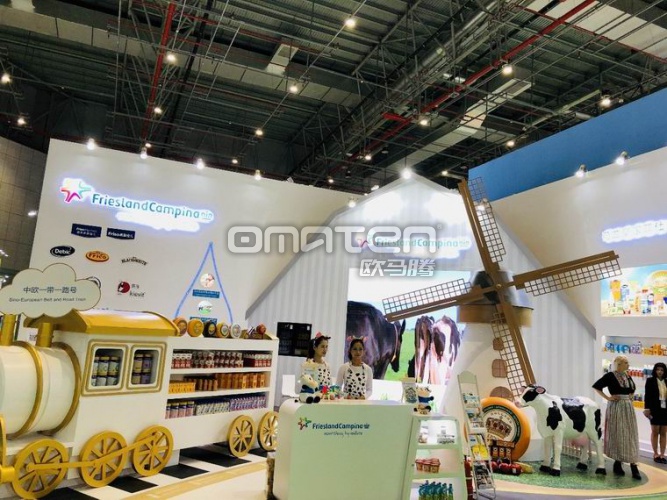 Fuji Booth: Artificial intelligence first appearance REiLl
The whole booth is clean and concise with smooth and natural lines.
The booth shows a variety of application fields in Fujifilm. For example, medical imaging technology modified the earliest X-ray to many fields such as endoscopy and ultrasound, and it has been recognized and used by various medical institutions worldwide. "Fujifilm has provided more than 70 kinds of medical imaging identification technologies, which have been applied in clinical treatment.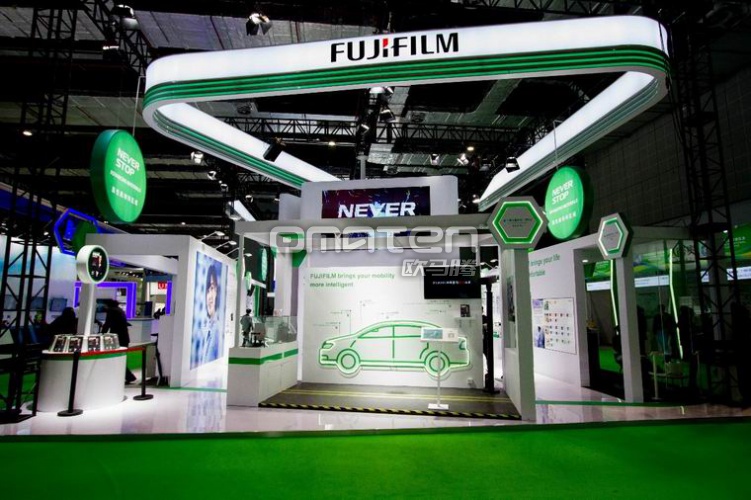 Omaten Exhibition promotes scientific and technological innovation that emphasizes the spirit of craftsman and professionalism, and contributes actively to the development of Shanghai and international market.
In the future, Omaten Exhibition will actively respond policies and lead the direction of industry.
Omaten Exhibition Technology (Shanghai) Limited is profession operation who can help a city developing by customized design. Omaten is energizing all field industry in city.
,Omaten currently covers 188 cities in 42 countries and regions in nearly 15 years.
It includes museums, theme museums, science and technology museums, cultural complexes, featured towns, theme exhibition planning and cultural creation operations. At the same time, it helps top 500 enterprises in the world such as Huawei, CRRC, Midea, China Mobile, Deppon, Wanda and vivo to promote brand culture and increase their core competitiveness.